Then Pilate's soldiers brought Jesus into the governor's palace. All the soldiers gathered around Jesus. The soldiers took off Jesus' clothes and put a red robe on him. Then the soldiers used thorny branches to make a crown. They put this crown of thorns on Jesus' head, and they put a stick in his right hand. Then the soldiers bowed before Jesus and teased him. They said, "Hello, king of the Jews!" The soldiers spit on Jesus. Then they took his stick and hit him on the head many times. After they finished teasing Jesus, the soldiers took off the robe and put his own clothes on him again. Then they led Jesus away to be killed on a cross.
— Matthew 27:27-31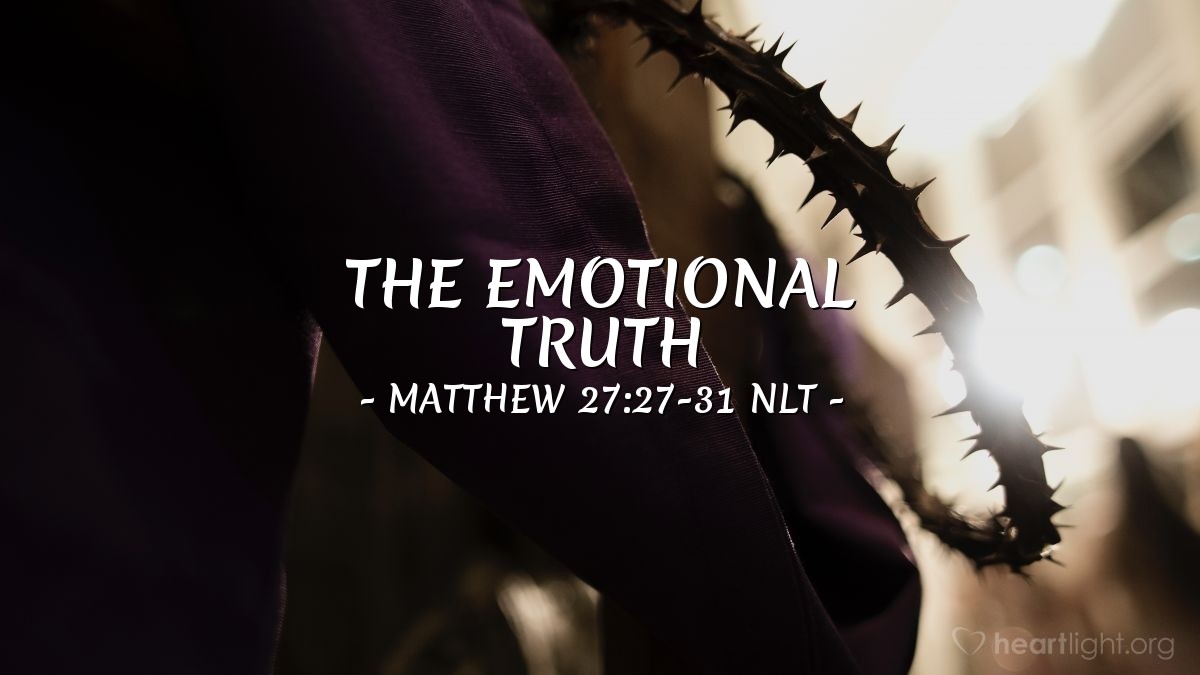 Key Thought
Matthew describes this horrible scene so matter-of-factly. His account is devoid of emotion or nuance. The brutality and cruelty is just simply recited. However, each fact shakes us like a lightning strike a little too close for comfort.
They took his clothes and put on a robe.
They put a crown of thorns on his head.
They put a mock scepter in his hand.
They mocked him as King.
They spat upon him.
They beat him with a stick on his head.
They led him away to be crucified.
For those of us who believe, our hearts break with each thunderclap of hell's fury. This emotionless account stirs deep emotions within us. This is our beloved Jesus. This is our Savior. This is our Lord. He did this for us … for me! How could they do such things?
More than simple historical facts, these events are the basis of our salvation and the cost paid to redeem us from our sin. They remind us of God's love. Simple and emotionless words stir something deep within us and make us cry, both with delight in our salvation and in horror at its cost. This is our King. We bow to him. He rules forever. Yet he withheld his power and suffered this horrible set of events for one reason: he loves us and wants us in his family.
Today's Prayer
Gracious heavenly Father, as a mere mortal, there is no way that I can understand or feel what must have penetrated your heart when these events occurred. But I thank you. I thank you for sending Jesus to be my salvation. I thank you for withholding your power so that power could be directed to remove my sin. I thank you for loving me when I have not always been lovable. I thank you that this is not the end of Jesus' story, but the beginning of the very events that made your limitless grace accessible to me. In Jesus' precious name I pray. Amen.
Related Scripture Readings
Romans 5:6-8
1 Corinthians 1:21-22; 2:1-2
Romans 7:24-25