Early the next morning, all the leading priests and older leaders of the people decided to kill Jesus. They tied Jesus with chains. Then they led him to Pilate the governor. They gave Jesus to Pilate.
— Matthew 27:1-2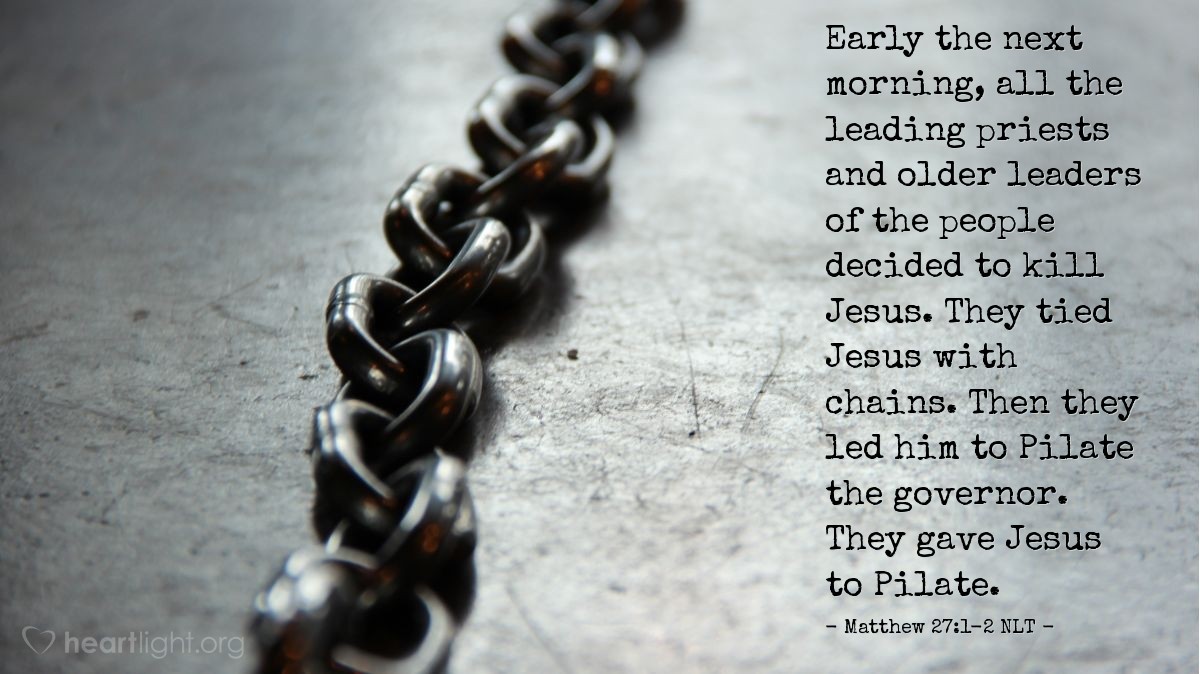 Key Thought
The religious leaders were looking for a simple little execution done behind the scenes so they could get Jesus out of their hair and keep things the same. He was a disruptive problem that had to be taken care of as soon as possible. So after their mock trial, they confirmed what they had decided long ago and had been plotting for months: "Jesus must die!" Where their reasons were many, they were all selfish and ungodly. But like most cowardly deeds done in darkness, they would not finish the deal. They could turn to Pilate and have the Romans do their dirty work. What am I blind about in my religious arrogance and hard-headedness? What injustice could I do to protect my power and the predictability of my "faith"? Could I have sided with these leaders and rejected Jesus so I could keep my place in the religious leadership? Mmmm!
Today's Prayer
Holy and Almighty God, forgive me when my own arrogance and religious pride get in the way of your truth and those who seek it. Please keep my heart soft to your will and open to your Spirit's work. I never want to become like the religious leaders who killed Jesus to protect themselves and their positions. In Jesus' name I pray. Amen.
Related Scripture Readings
John 11:45-53
John 11:57
John 12:9